Pilot Mountain Turquoise Mine
The Pilot Mountain turquoise mine is located in northern Nevada, in Mineral County, near the town of Tonapah. It is still producing and is worked by one family. Pilot Mountain turquoise stone is highly admired for its deep blue-green colors. In addition, it can show light blue to dark green colors on the same stone. This graduation in color is unusual and makes Pilot Mountain turquoise very collectible. The matrix is black to golden brown. Although sometimes a little porous, or pithy, the Pilot Mountain turquoise we have for sale is a hard stone and takes a good polish.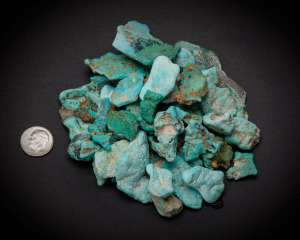 This is classic Nevada turquoise from the Pilot Mountain Turquoise Mine. Nice flats in an aqua blue green color. Excellent for cabochons.