Rough Coral
Coral is calcium carbonate combined with magnesia and organic substance. We offer high quality red Mediterranean coral. All rough coral is extremely high-quality with no worm damage, weedy threads, etc. All prices are approximate, depending on the weight, quality, colour and availability of each piece. Prices are subject to change without notice, based on supply and exchange rates.
All of our rough coral originates from the Mediterranean sea. It ranges in colour from dark salmon to bright tomato red. The Mohs
hardness is 3 and the best uses are in bead applications, inlay, jewlrey making and cabbing.
Also, don't miss our
cabochons
and
beads
, ready to set or string, finished
coral jewelry
and rare
specimens
for your collection!
*Please note: The pictures below are only representative of the rough coral we carry. All sizes are measured at the base. The coral shown in photos has had the calcium/mineral coating removed to reveal the hard coral underneath. All rough coral is available either with or without the mineral coating without affecting the price.
Please call or email to order this product. (Kilo Discounts Available)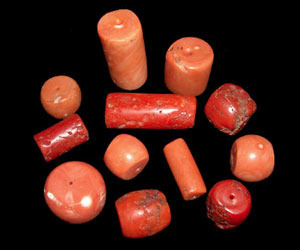 Large Antique Coral Beads from The Sea of Japan
Sizes range from 10mm (about 3 grams) to 25 mm (about 30 grams).