Pins, Buckles & Pendants
Natural Turquoise, Coral, Pearl, Gemstone and Silver Jewelry
All of our jewelry is hand made and of the highest quality with beautiful
natural turquoise
,
Mediterranean coral
and gemstones set in heavy gauge sterling silver. Many pieces are one of a kind, hand selected for their distinct beauty, character and quality stones.
Make sure to have a look at our featured
Pearl Jewelry
,
Turquoise Jewelry
,
Coral Jewelry
and
Jeff's Neckware
!
We are continually in the process of restocking and getting up new items. Please stay tuned for more new pins, buckles, and pendants soon!
Oxblood coral cross pendant by Albert Jake features baroque free form coral cabochons set in sterling silver
This will be your new favorite bolo tie. The large vintage gem grade variscite stone is set in a sterling silver bezeled setting. This stone is one of a kind. The set stone measures 2 ¾ inches by ½ inch. On a leather bolo with sterling silver tips.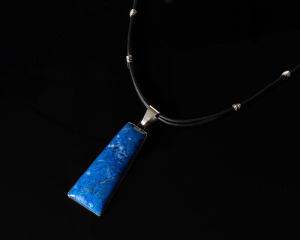 Mesmerizing lapis lazuli pendant set in sterling silver, hand made by E. Willie. The pendant is on black leather with sterling silver wire accents. Lapis lazuli is said to give its user the courage and fearless adventurous spirit needed to realize their dreams, by aiding one to break free from past situations that may be causing them problems today (clearing mental debris from one's thought patterns). When mental processes touch the emotions, lapis helps the emotions to become understood. This connection between the emotions and the mind opens us to new possibilities and horizons, and enhances our potential.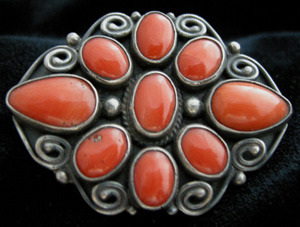 Coral Cluster Pin - SOLD
This traditional nine stone coral cluster pin by Verdy Jake (Navajo), can also be worn as a pendant. Two pieces of jewelry for the price of one! The nine matching, naturally deep orange Mediterranean coral gem quality stones are set in a smooth bezel, in heavy guage silver with silver scroll and ball detail. This piece measures 1 3/4" wide by 1 5/16" oriented as shown. To be worn as a pendant, the piece is rotated 90 degrees.