Pins, Buckles & Pendants
Natural Turquoise, Coral, Pearl, Gemstone and Silver Jewelry
All of our jewelry is hand made and of the highest quality with beautiful
natural turquoise
,
Mediterranean coral
and gemstones set in heavy gauge sterling silver. Many pieces are one of a kind, hand selected for their distinct beauty, character and quality stones.
Make sure to have a look at our featured
Pearl Jewelry
,
Turquoise Jewelry
,
Coral Jewelry
and
Jeff's Neckware
!
We are continually in the process of restocking and getting up new items. Please stay tuned for more new pins, buckles, and pendants soon!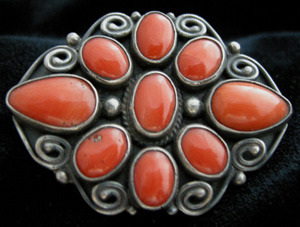 Coral Cluster Pin - SOLD
This traditional nine stone coral cluster pin by Verdy Jake (Navajo), can also be worn as a pendant. Two pieces of jewelry for the price of one! The nine matching, naturally deep orange Mediterranean coral gem quality stones are set in a smooth bezel, in heavy guage silver with silver scroll and ball detail. This piece measures 1 3/4" wide by 1 5/16" oriented as shown. To be worn as a pendant, the piece is rotated 90 degrees.