Fox Turquoise Mine 12.15 cts.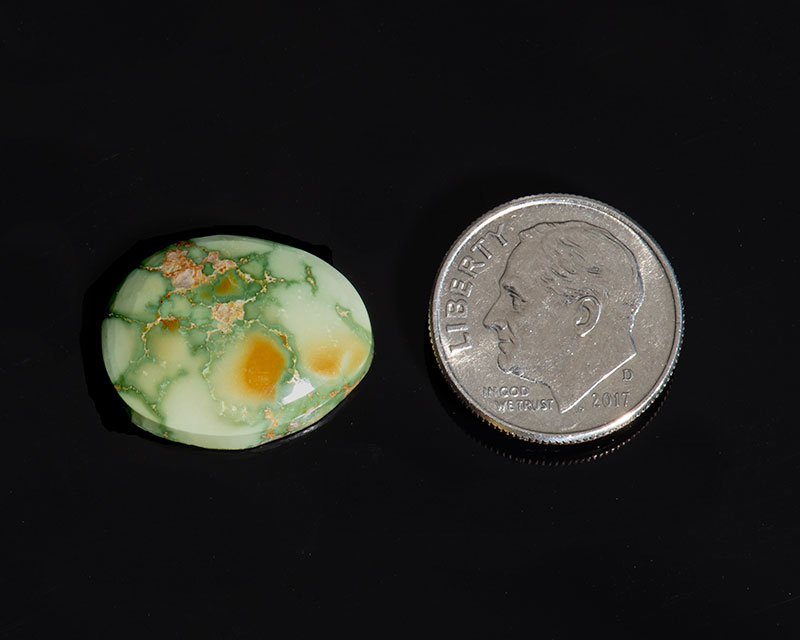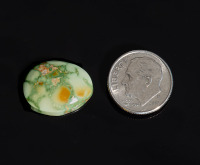 The origin of the Old Fox mine is near Lander County, Nevada. While indigenous people found large nuggets in this area in prehistoric times, the area was first discovered for contemporary mining purposes in the early 1900's. In the 1940's, Dowell Ward purchased & developed the old Cortez claims. Turquoise from this mine comes under several different names including Fox, White Horse, Green Tree and Smith, to differentiate the different deposits and colors and to create a larger perceived share of the turquoise market. Color range is from a soft sky blues, sometimes with a subtle water-marked matrix, to blue-green to green. While quite a bit of this material came out in nugget form, there is also large seam material, sometimes as thick as two inches. The colors in the seam material go to a deeper green, sometimes in conjunction with a very nice blue. The nugget material, while usually small, makes very nice cabs or can be used for inlay. The seam material, often not of ultra high quality, is better suited for carving and, with the better quality for cabbing. Hardness is 4.5.
The Fox Mine once known as the Cortez was once the largest producing Mine in Nevada for over 50 years.mined for centuries by Indians it was first claimed by Charles Schmidtle .and Johnnie Francis in 1914.Dowell Ward purchased the claim in the 1940's and developed it into Nevada's most productive Turquoise Mine, by 1968 over 500,000 pounds of stone was mined.the Fox was marketed under the names Fox ,Smith, Whitehorse and the Green Tree. To differentiate the different colors.A smart marketing move which created a larger perceived share of the turquoise market the Fox famous for its bluish green Sea Foam Nuggets and hard Turquoise is highly sought after. Once owned by one of the Legends in Nevada Turquoise Mining. At one time Dowell Ward held over 275 mineral claims and from 1987 to 1997 held 64 claims totaling 1322 acres.Owner of some of the most famous Mines in Nevada the # 8 and the Lander Blue . Dowell passed on in 2001 at the age of 79 but his mark in the turquoise world lives on
This ct. stone measuring mm was part of a vintage 1980's collection that I received a retiring cutter who had been cutting for forty years and putting his best material aside for decades. He brought me a 50,000 ct. collection just before the COVID lockdowns began.

This 12.15 ct cab from the Fox Turquoise Mine measures 19 x 15 mm.An amazing color scheme with a background of soft green with a darker green water web overlay.


cataloged under